About Us
For over 40 years TRANSEARCH International has, as passionate experts in the executive search and leadership consulting industry, built leadership teams for our clients
TRANSEARCH International Australia
TRANSEARCH Australia is part of TRANSEARCH International, one of the world's leading international Executive Search firms. TRANSEARCH has been instrumental in identifying and securing Board members, 'C' suite executives and senior functional experts who have led the growth of successful organisations worldwide.
As passionate experts in the executive search industry we build diverse leadership teams every day. We understand that as a candidate, your next role is pivotal in advancing your career. At the same time, attracting and retaining high quality talent to achieve core business objectives gives our clients a key competitive advantage. Our name is synonymous with discretion, quality processes and representing reputable clients. Our frequent communication ensures you are kept up-to-date on assignments and our executive advice explores career options.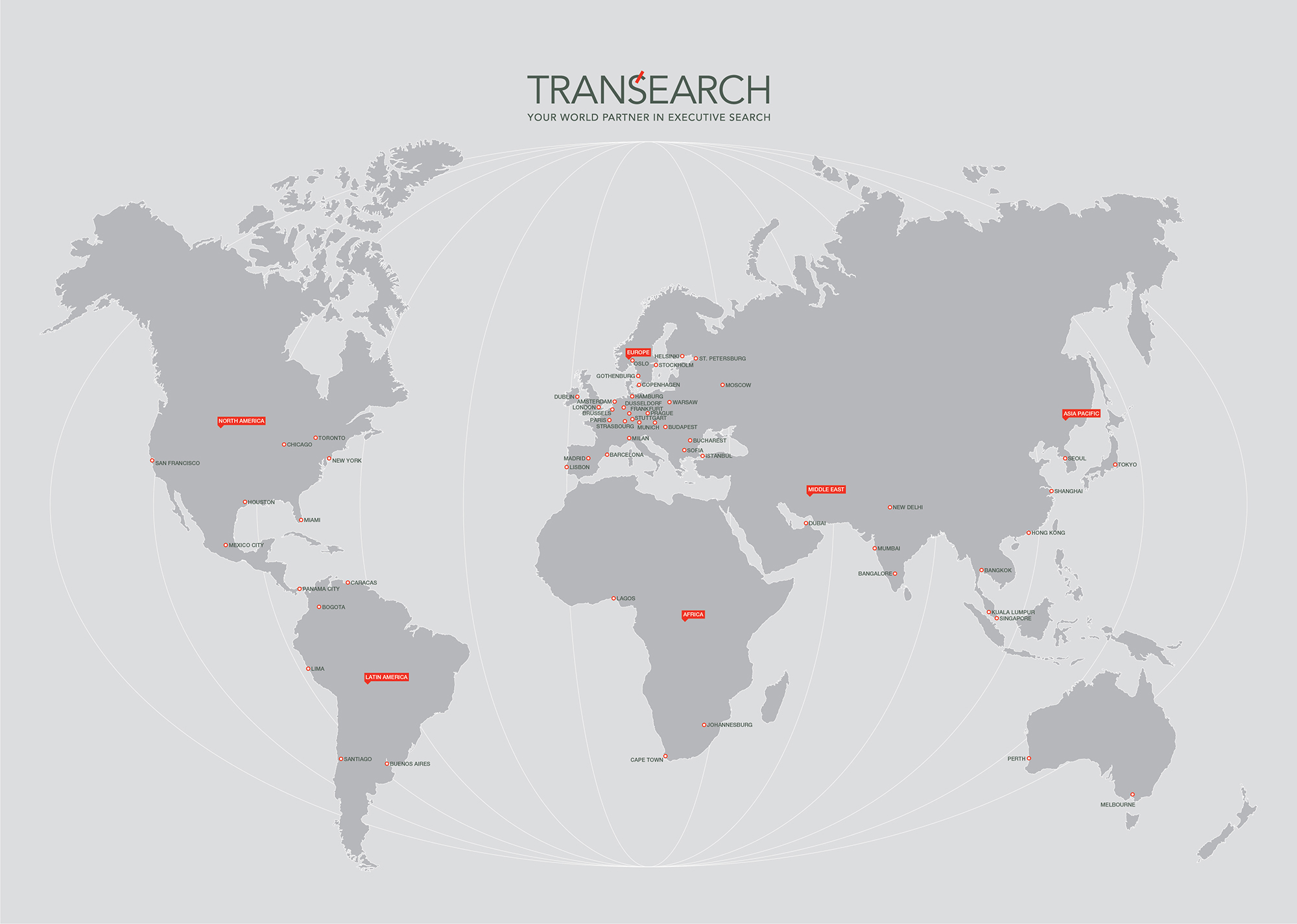 About TRANSEARCH International
TRANSEARCH International was founded in 1982 with a distinguishing vision intended to enable the achievement of the following objectives:
Creating value for our clients by placing their interests first
Assisting our clients in acquiring leadership talent
Providing outstanding research capabilities and access to a global talent pool
Utilising a rigourous assessment methodology
Applying in depth reference checking
Contributing to successful completion of the search by facilitating the final negotiations
Deploying a tailored onboarding program and followup regime
Developing a candidate's career by considering their personal interests and career aspirations when assessing their suitability for any given position
TRANSEARCH International is one of the leading executive search organisations in the world. Headquartered in Europe, we have representation in The Americas, Asia Pacific, Europe, Middle East and Africa. Our global presence allows us to service companies around the world – covering all the major industry sectors.
TRANSEARCH International operates through a matrix structure – organised by geography, industry specialisation and functional expertise as well as by additional leadership services. Our clients, whether large or small, global or local, benefit greatly from this structure as we have access to the most relevant resources and relationships wherever they may exist. This enables us to understand our clients' cultures, operations, business strategies and industries thoroughly.
About TRANSEARCH International Australia
TRANSEARCH International Australia is Chaired by Geoff Slade, a recognised originator of recruitment services in Australia with over 50 years history in the industry. Formerly known as Slade Partners, with its origins in the early 1980s, the Australian partnership was invited to join the global search partnership of TRANSEARCH International following 45 years of building a successful Executive Search business. Led by Managing Director Bill Sakellaris, TRANSEARCH Australia has continued to build and maintain a market leading reputation for integrity and innovation, partnering with clients to deliver the best possible appointment outcomes.
Our Sister Companies
Our sister company Slade Group recruits professional and technical specialist roles for permanent and ongoing positions. Slade Group's Temporary & Contract Talent team the Interchange Bench provides temporary, contractor, payroll and contingent workforce services. Synchro Partners by Slade Group are technology recruitment specialists, providing contract and permanent placements. We also partner with Yellow Folder Research, a professional services firm providing talent advice and corporate research.
"Who you hire and promote today dictates what is possible tomorrow."
Dr John O. Burdett
TRANSEARCH Global Advisor on Culture and Leadership